Belton Industries' GEOJUTE/ANTI-WASH fabric was initially developed as a natural, biodegradable method of preventing soil erosion during vegetative establishment. Steep slopes and inclement weather can create soil erosion problems, removing large quantities of expensive topsoil and creating expensive remedial repair. The product is easy to install and does not require any special equipment or labor to install. One 100 square yard roll can be installed in 1 man hour.
GEOJUTE is an open weave mesh weighing about 92 lbs. per roll (75 yards x 48 inches wide). The fabric has approximately 60 warp yarns (length direction) per linear yard and 42 weft yarns (cross-machine direction). The warp and weft yarns are large and of the same size and the fabric has approximately a 60% open area. This open weave construction accepts seeding before or after installation. Additionally, plantings can be made through the fabric.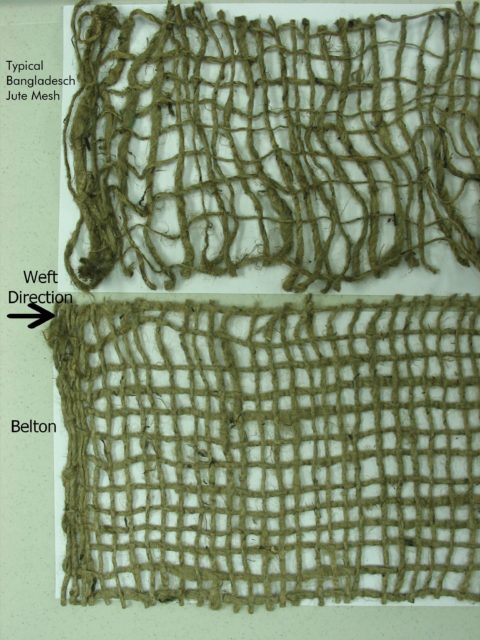 Belton GEOJUTE is the only jute erosion control fabric that has been AASHTO/NTPEP tested and has been successfully used for over 50 years. The product is manufactured to Belton's strict product specifications and is monitored during production for adherence to our published specifications.
In recent years, there has been a flood of substandard products (primarily from mills in Bangladesh) that claim to meet our product specifications. Typically, we find that these "soil saver" type products weigh from 72 to 82 lbs. per roll and contain about 10% fewer weft yarns per yard. The weft yarns are also at least 50% smaller than the yarns which are found in the Belton GEOJUTE product meaning that you don't have as much material to protect slopes during heavy winds and rainfall.  Based on independent laboratory testing, the imported jute erosion mesh from Bangladesh has approximately 62% more soil loss and weighs 22% less than the superior Belton Industries' GEOJUTE/ANTI-WASH product.  These test reports based on ASTM D 6459 and D 7101 are available upon request.
A visual comparison of our GEOJUTE with a typical imported jute erosion fabric from Bangladesh can be seen in the photo.
Contact us to learn more about GEOJUTE Anti Wash Fabric.