Challenge/Need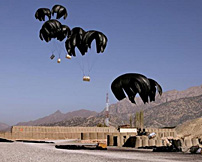 The US military were trying to develop lower-cost, one-use cargo parachute systems to support aerial supply for both military operations and humanitarian relief efforts. Early R&D efforts focused on woven polypropylene fabrics for civil engineering applications. Unfortunately, these off the shelf products were not yielding optimal results and design modifications were needed.
Objective
Belton and military R&D personnel collaborated to determine performance characteristics required to provide targeted rates of descent with maximum payloads. The fabrics also had to meet criteria for strength and tear resistance in order to handle opening impact.
Product Solution/Innovation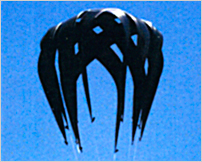 Belton successfully designed 3 fabrics that have been used extensively in both military operations and humanitarian relief efforts. The military has achieved its objective of developing new single-use cargo parachute systems for low-, medium-, and high-altitude aerial supply. These cargo parachutes designed with Belton fabrics have become the new standard and have saved the US government millions of dollars.