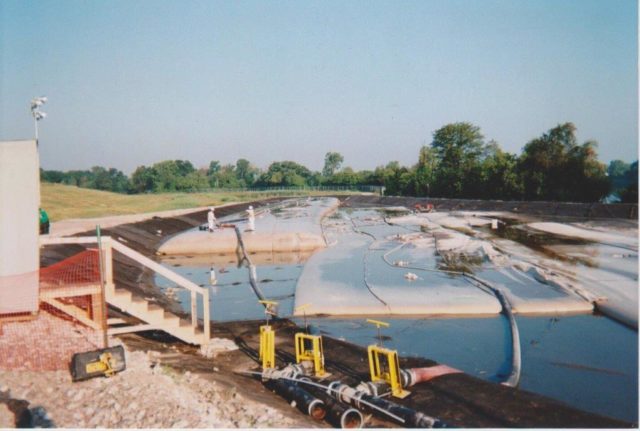 Sludge dewatering systems are designed to separate large volume sludge waste into liquid and solid components for waste minimization. Dewatering systems are not used to treat contaminated solids or liquids. It is a way to separate the solids and liquids so that it is easier and more cost-effective to handle the components for further treatment or final disposal.
Belton's Beltech 2159 is a high strength, filter fabric used extensively in sludge dewatering tube systems. These large dewatering tubes offer a high-volume/low-cost dewatering solution for a variety of industries including environmental, industrial, mining, municipal, agriculture, and aquaculture.
Our fabrics have been used for dewatering tubes in projects ranging from cleaning up hazardous waste from waterways, removal of pulp and paper sludge, coal sludge and mine tailings, municipal waste treatment sludge overflow, removal of animal waste from lagoons and ponds and capping sludge from an out of service phosphate mine.
Our product is the preferred fabric to many leading dewatering tube manufacturers for the following reasons:
The weakest section of a fabric dewatering tube is where the fabric is sewn together, along the sew line. Our fabric selvages have a woven reinforcement to ensure higher than normal seam strength.
The weave and yarn type ensure a higher coefficient of friction than most dewatering tube fabrics which means safer footing for those walking on the tubes.
All fabric is 100% post-production inspected and will not give rise to costly failure at the job site.
Our in-house lab is A2LA accredited for an array of textile performance testing. Certificates of Conformance are offered for every shipment. No expensive outside verification is needed.
Our dewatering fabrics can be color matched or customized so that the large tubes will blend in with the surroundings.
Our fabric typically is sold in 15 ft. width, but customized widths up to 17.5 ft. are available for a minimum order quantity.
Contact us today to learn more about this and other products.